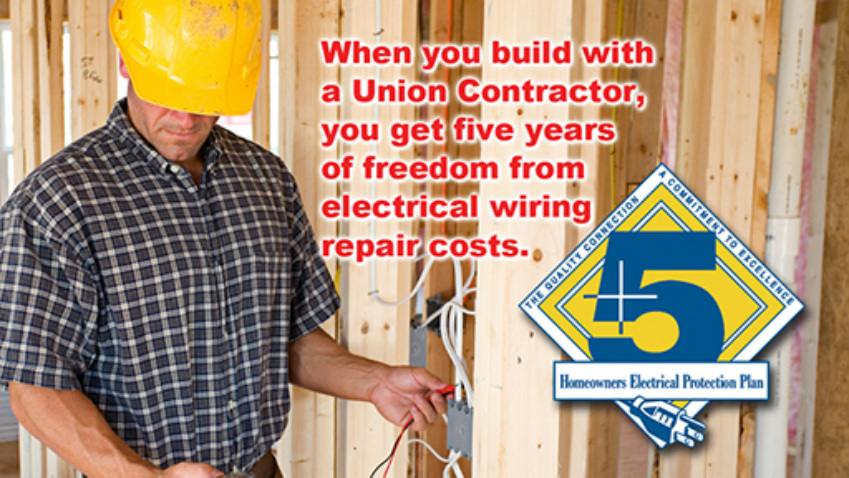 The +5 Homeowners Electrical Protection Plan is a FREE special quality protection program for residential wiring systems. It gives the original home buyer 5 extra years of freedom from electrical wiring maintenance costs. The protection extends above and beyond the builder's one-year electrical wiring warranty and the additional year of protection provided under the Home Owners Warranty (HOW) program offered by some builders.

For more information about the Homeowners Electrical Protection Plan Visit the

National +5 website. Who offers +5?

The +5 Homeowners electrical Protection Plan is available only through contractors employing the qualified professional electricians of the International Brotherhood of Electrical Workers (IBEW) Local Union No. 702 and southern Illinois area union electrical contractors affiliated with the IBEW.

Who guarantees the +5 Program?

This program is backed by IBEW Local Union 702 and the Illinois Chapter of NECA. The fiscal integrity and quality commitment of the participating organizations provide secure protection to Southern Illinois area buyers of electrical construction services.

What is my potential liability?

The +5 Homeowners Electrical Protection Plan expressly decreases any liability associated with participating home builders. The quality protection provided by IBEW Local Union No. 702 and affiliated contractors takes the home builder out of the loop of responsibility after expiration of the original electrical wiring warranty and provides a means for addressing any problems, with no charge to you or your customers.

What benefit is +5 to my home buyers?

When you use our +5 Homeowners Electrical Protection Plan by buying the services of IBEW Local Union No. 702 electricians and contractors, your customers receive:

• Electrical wiring that's installed properly

• No electrical wiring maintenance costs for 5 extra years

• High quality, trouble-free electrical wiring for their home

• Work performed by certified professional electricians

• Safety for your family

In the event of a problem, solutions obtained easily and at zero cost to you

What's the cost?

Our protection plan is absolutely free. all you have to do is:

use electrical contracting services from a contractor employing electricians who are members of IBEW Local Union No. 702. They will provide a simple registration form to the home buyer at time of closing. We take care of the rest.

How can I sign up?

Talk with a southern Illinois area union electrical contractor affiliated with the IBEW. If you need a referral, call the Labor Management Cooperative Committee (LMCC) at 800-252-8922 and ask for the +5 representative.